DS Download Play
Jump to navigation
Jump to search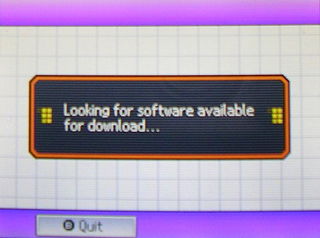 What it is
DS Download Play is a application that ships with all versions of the Nintendo DS and allows you to download from other DS', the Nintendo Channel on the Nintendo Wii, and various DS download stations in retail stores.
Uses
It is used primarily for single DS card multiplayer, when two or more people play with only one game card.

Animal Crossing City Folk utilizes DS Download Play to allow players to visit each other's towns without Nintendo WFC.

To transfer Nintendo WFC settings and ID between DSs.

To temporarily download demos from Wiis or DS Download Stations.
Changes
It is virtually unchanged from DS Download Play for the original DS and DS Lite except for that it returns to the DSi menu when exiting as opposed to shutting the system down. The strings from the original DS Menu are still present in this binary, although it is not known if the menu code itself is present outside of the DS Download Play code.
It can be emulated in DeSmuME without issues, so it most likely runs in DS mode.
How to detect
The DS Download Play dosn`t have a SSID so it is easy to find for sniffers
How does it work
The DS Download Play application can be used when someone hosts a game that can utilize download for the DS without a game card. At retail stores, Download Stations are usually in a locked box with Nintendo DS Phat systems.
Links
Explains the the download protocol http://www.bottledlight.com/ds/index.php/Wifi/WMBProtocol